*vacuums away dust, mops every corner of the screen, sweeps away spam comments*
Firstly of course,
I'M MARRIED
!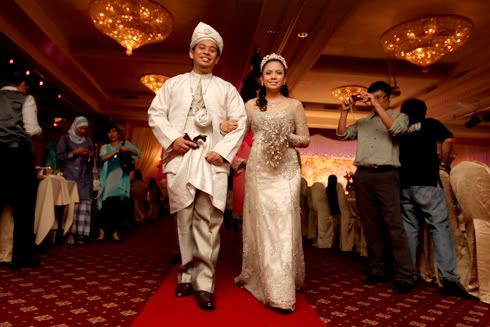 Well, hello! I know that it's been THAT long since I've last posted anything. I knew I had the whole wedding countdown thing going on with details on the event and such. Everything has been quite overwhelming the month prior to the wedding, and even the month after. Not to mention on the day itself!
Just two weeks before the wedding, the whole family was in shocked when Zech's Mom collapsed and had to be hospitalized for a minor stroke. It saddens everyone, including myself. This is the main reason why and when I lost the vibe in updating. I just didn't know what to update anymore and at most times, I'm lost for words. We were at the point of contemplating whether to go on with the wedding.
The family discussed, and we did. Though we had minus out a few events that seemed inappropriate. The next two weeks after that, I focused on the wedding while Zech took care of his Mom.
Fast forward to the wedding day, Alhamdulillah it went well and Zech did well during the akad nikah with only
sekali lafaz
:) It was a joyful day though there were times we would shed tears wishing Zech's Mom was there with us.
We had to cancel our honeymoon plans. 3 days after the wedding, Zech and I went to KL and spent a week there visiting and taking care of his Mom.
She is now recovering well, and have started to speak as of yesterday. Lets all pray for her speedy recovery.
I'll post up a different entry on the wedding day itself with tons of gorgeous pictures to share.
Til then, wishing everyone a belated Hari Raya Aidiladha!